Thursday, May 22, 2014
Bigfoot in Exposure

Here's a sample from a current piece that's appearing in the fine Australian comic anthology,
Exposure
, produced by the ACT Comic Meet (and purchasable
here
. This is a wonderful collection that continues the tradition of regional Australian mini-anthologies - possibly my favourite comic form.
So, in case anyone's wondering I am still drawing, but mostly trying to catch up and complete old work (with a view to building my own anthology at some point). I'm also still submitting small pieces here and there, to both small press and mainstream publications.
Mostly, I seem to be distracted by doing music again, something that I had thought I'd given up on completely. Given that my songs are fairly unconventional I'm not sure they have much of an audience, even within my current band, so this is probably something I'm doing mostly for my own interest.
My songs are, for the most part, original narrative poetry set to music, in a singer/songwriter style, usually piano-based, across a wide range of themes. Some of what I write is so odd that it's not really even suited for that, hence pieces like
Tree
and
Coelacanth
, which have been turned into poem/comics and published that way. This current piece,
Bigfoot Goes to Hollywood
fits that form. I can't really imagine it as a song, but as a comic, I think it works pretty well, bringing together a lot of pop culture references from the Bigfoot era.
Labels: Australian comics, Miscellaneous comic pieces, music
Wednesday, July 24, 2013
Robot for Illustration Friday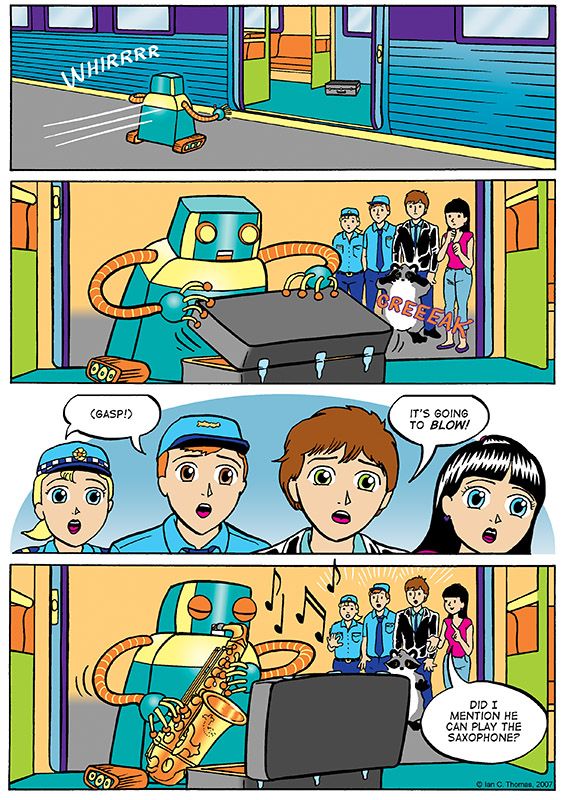 This week's
Illustration Friday
topic is a lot of fun - "Robot"! I almost missed it.
The one that sprang to mind for me was a little robot from a 4 page
Moth and Tanuki
story that appeared in
Mania
magazine, back in 2007.
Here's the final page only - I think it makes sense on its own - just imagine a mystery package being left on a train and the right robot being deployed for the job.
Labels: Illustration Friday, Mania, Moth and Tanuki, saxophones
Wednesday, June 05, 2013
Sweet for Illustration Friday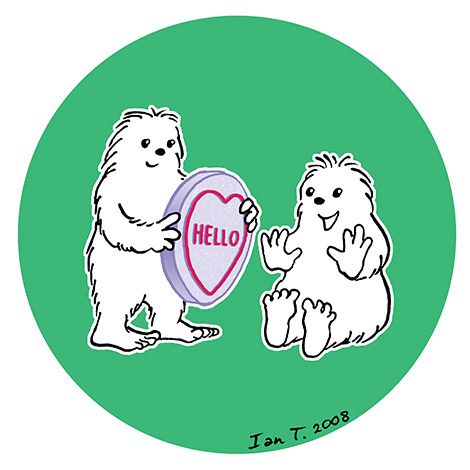 This picture - "Sweet" for
Illustration Friday
comes from a piece I had published in the book,
The Tango Collection
a few years ago.
If you'd like to preview the whole story (and maybe even buy the book), you might see it at Amazon - just click through to the first page of comics at:
The Tango Collection - Amazon preview
(sometimes the page appears "intentionally blank" though).
"Sweet talk like candy rots teeth"
Prefab Sprout - Hallelujah
Labels: Illustration Friday, Tango Collection
Wednesday, February 20, 2013
Out on the Meme Streets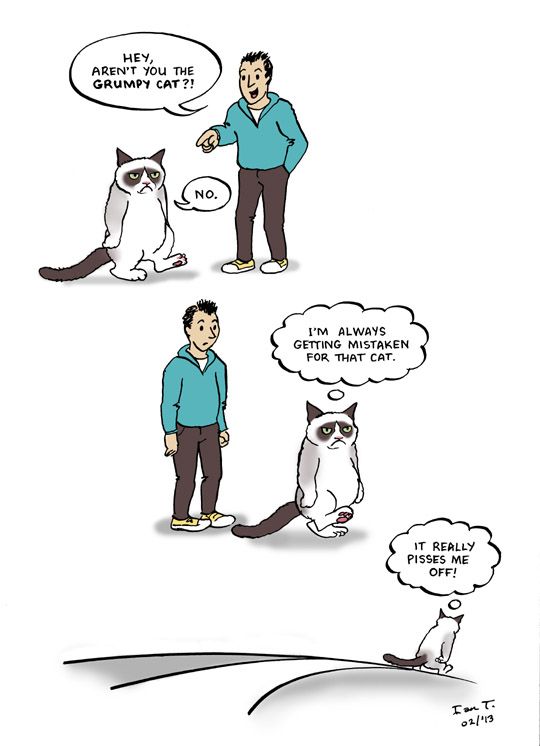 Labels: Cartoons, Miscellaneous comic pieces
Saturday, January 26, 2013
A new Australian flag
If Australia really needs a new flag, then I reckon just go with a map of Australia itself, maybe yellow against a blue background. Not many countries could actually use their geography this way, and it would be as distinctive as Canada's iconic maple-leaf flag.

Thursday, October 25, 2012
Sky for Illustration Friday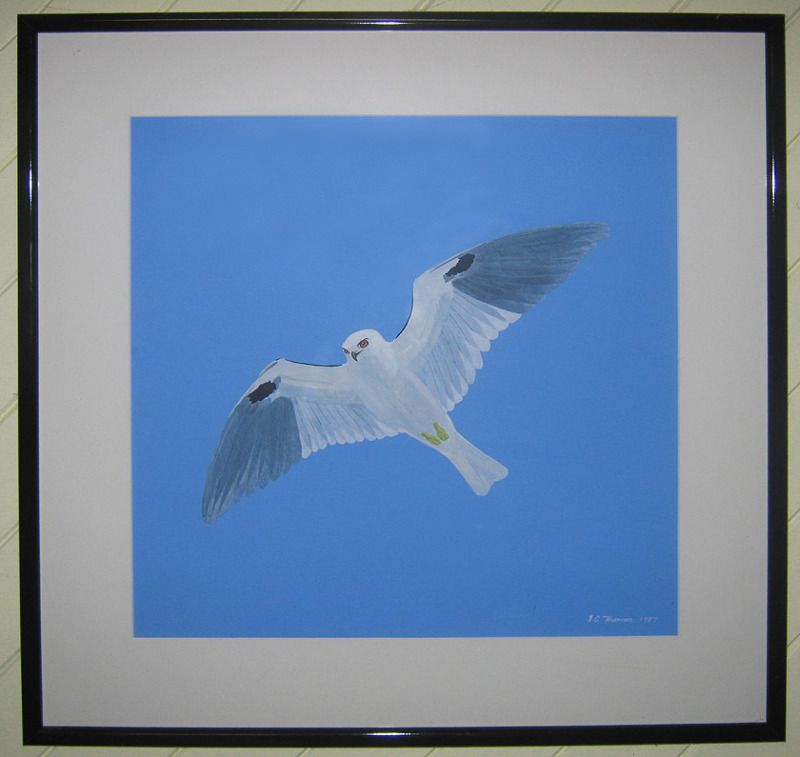 This old painting of mine was my first thought when the topic of "Sky" came up for
Illustration Friday
.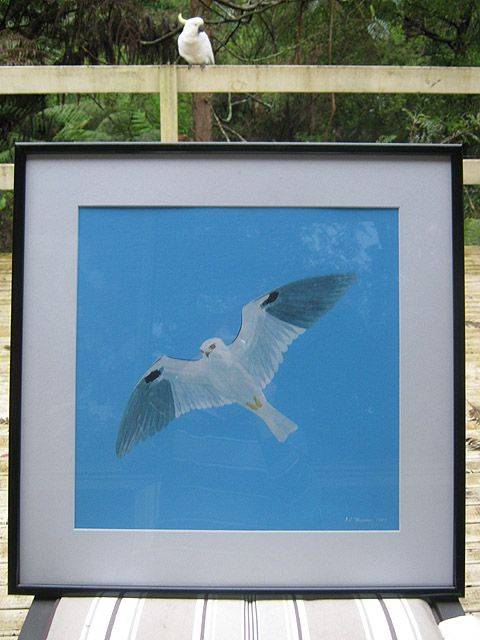 This was during my painting period, something I plan to come back to eventually. The black-shouldered kite was a familiar sight, hovering in the late afternoon sky over the backblocks of Aspendale, where we were living then. I had an absolute concept of how I wanted this to look, with the shoulder bars working as an outline against the sky. The framing was part of how I conceived it should look.
Originally, I planned to paint in clouds in a linear style, but the kite looked so good against a plain background that I left it this way. What surprised me was how brown the white paint appeared when applied to blue underpainting. The only solution was to add blue to the white paint before applying it, although I made the wings using a series of transparent washes, one feather at a time.
The main reason I don't paint more is that I don't have enough spare time during daylight, which it needs to work right. The picture here isn't very good, as it was taken with a flash (which I've left in on the frame), but here's an even worse attempt, taken outside on the deck tonight. I have no idea how to photograph my paintings, which is why you don't see many of them here.
Labels: Australian wildlife, Painting
Friday, October 12, 2012
Coelacanth in Going Down Swinging 33
The stellar new issue of
Going Down Swinging
is available now, featuring sixty contributors - of prose, poetry, art (plus music and spoken word works on the CD included) - so much to enjoy it's a little overwhelming! It's also issue number 33, which is a remarkable achievement in itself.
Lurking inside you'll find "Coelacanth," a poem/comic that I'm particularly proud of, as I think it makes good use of the form. I've done a few poem/comics now, but they've tended mostly to be illustrated stories, rather than images and art working to weave complementary, sometimes even contradictory, threads into a cohesive whole.
When I drew this I was feeling at a loose end, and went to my lyrics book searching for something that I could possibly illustrate as a comic (this one hadn't been set to music, and still hasn't). The best tales want to tell themselves, and this one emerged rapidly from the creative darkness.
There's so much to discover in GDS #33 - for me, so many favourites, old and new. You can find it to purchase
here
.
Labels: Miscellaneous comic pieces