Monday, October 27, 2014
22 Panels Exhibition
Anyone into comics needs to have seen the great Wally Wood's
Wally Wood's 22 Panels That Always Work!!
at some point.
Inspired by this timeless comicking advice, Tim McEwen and Jules Faber of the Australian Cartoonists' Association have put together a
22 Panels Exhibition
, presented by Supernova Pop Culture Expo. It will be at The Wedge Gallery, Books Kinokuniya, Level 2, The Galeries, 500 George Street, Sydney, opening on Thursday evening, 30th October, and running until Saturday, 16th November. There will be an art book/catalogue documenting the works for sale. Also, some of the original pieces will be available to buy.
For more information, please see the
22 Panels Exhibition Facebook page
.
The exhibition will feature framed original art from 22 Australian comics creators and cartoonists: David Blumenstein, Jason Chatfield, Christopher Downes, Anton Emdin, Dave Emerson, Jules Faber, Rob Feldman, First Dog On Moon, Sarah Firth, Roger Fletcher, David Follett, Hayden Fryer, Mark Guthrie, Frantz Kantor, Glen Le Lievre, Glenn Lumsden, Tim McEwen, Bruce Mutard, Dean Rankine, Daniel Tribe, Cathy Wilcox, and at Panel 21, me :).
Here are a couple of shots of my progress work on the multimedia piece I made for this Exhibition.
I took some liberties in terms of interpreting the panel I was allocated, just following the way the topic inspired me. The picture actually tells a kind of story, in the sense that it raises questions beyond just being a newspaper frontpage, and it could function in a comic sequence in a similar way.
The media used is primarily ink and gouache, with some traditional screentone.
It's rare for me to consider selling original art, but I think I will offer this one for sale at the Exhibition at a reasonable price.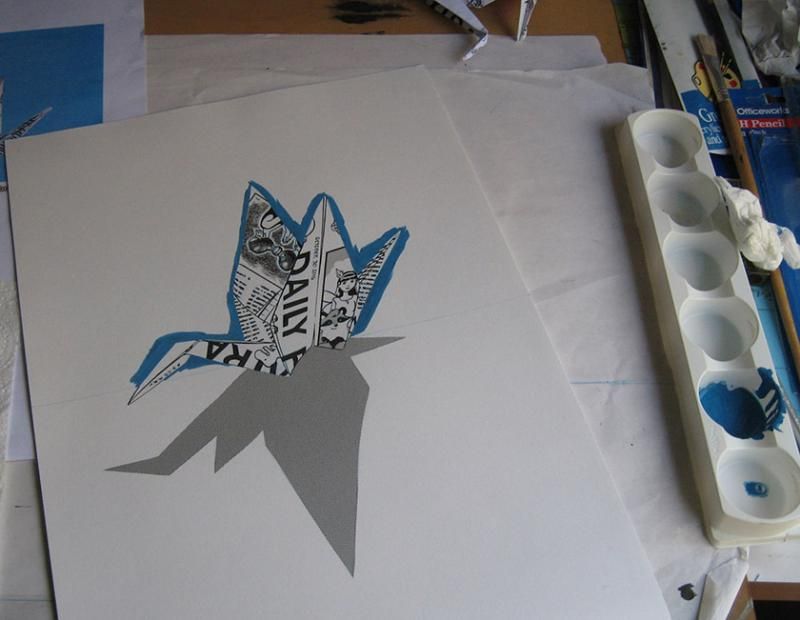 Labels: Australian cartoonists, Australian comics, Painting
Friday, August 01, 2014
Short piece in Short & Twisted literary anthology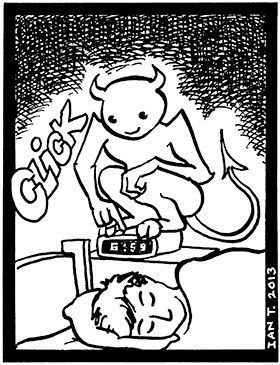 This is the first panel of a one page comic piece published in the literary anthology,
Short & Twisted 2014
. It's one of many pieces that I've had scripted for a while, which I completed with this fine book series in mind.
The book's emphasis is on short prose works with startingly surprising twists. I seem to be having better luck with getting pieces published in literary anthologies than in comics lately - I wonder what that means? Maybe my work is becoming too obscure. Anyway, in a year where a number of pieces failed to reach publication, it was pleasing to get this one out there.
My big project now is still trying to compile some sort of anthology of my past work, but that's a massive task.
Many of the pieces need care with scanning and cleaning up, and the selection process isn't easy, given that my emphasis has generally been on longer tales. I think a book like that would need to contain selections from
Maelstrom
,
Children of the Moon
,
Moth & Tanuki
, etc., along with strips like
Busker Jim
and
Joytown
, and shorter pieces. More than half the material would need to be in colour, which is an added complication. I may yet do a shorter black-and-white book focusing on more recent, one off, pieces like this one.
In the meantime, if you like good literary anthologies,
Short & Twisted 2014
can be purchased
here
.
Labels: Miscellaneous comic pieces
Thursday, May 22, 2014
Bigfoot in Exposure

Here's a sample from a current piece that's appearing in the fine Australian comic anthology,
Exposure
, produced by the ACT Comic Meet (and purchasable
here
. This is a wonderful collection that continues the tradition of regional Australian mini-anthologies - possibly my favourite comic form.
So, in case anyone's wondering I am still drawing, but mostly trying to catch up and complete old work (with a view to building my own anthology at some point). I'm also still submitting small pieces here and there, to both small press and mainstream publications.
Mostly, I seem to be distracted by doing music again, something that I had thought I'd given up on completely. Given that my songs are fairly unconventional I'm not sure they have much of an audience, even within my current band, so this is probably something I'm doing mostly for my own interest.
My songs are, for the most part, original narrative poetry set to music, in a singer/songwriter style, usually piano-based, across a wide range of themes. Some of what I write is so odd that it's not really even suited for that, hence pieces like
Tree
and
Coelacanth
, which have been turned into poem/comics and published that way. This current piece,
Bigfoot Goes to Hollywood
fits that form. I can't really imagine it as a song, but as a comic, I think it works pretty well, bringing together a lot of pop culture references from the Bigfoot era.
Labels: Australian comics, Miscellaneous comic pieces, music
Wednesday, July 24, 2013
Robot for Illustration Friday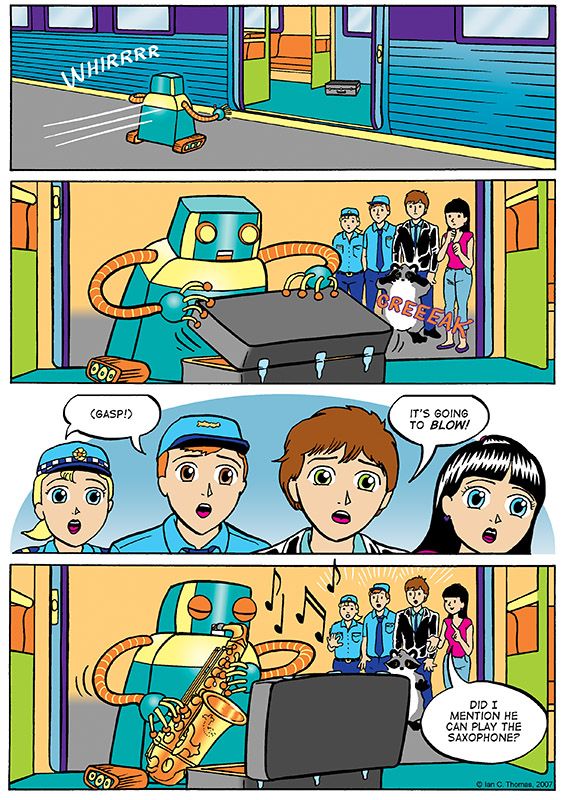 This week's
Illustration Friday
topic is a lot of fun - "Robot"! I almost missed it.
The one that sprang to mind for me was a little robot from a 4 page
Moth and Tanuki
story that appeared in
Mania
magazine, back in 2007.
Here's the final page only - I think it makes sense on its own - just imagine a mystery package being left on a train and the right robot being deployed for the job.
Labels: Illustration Friday, Mania, Moth and Tanuki, saxophones
Wednesday, June 05, 2013
Sweet for Illustration Friday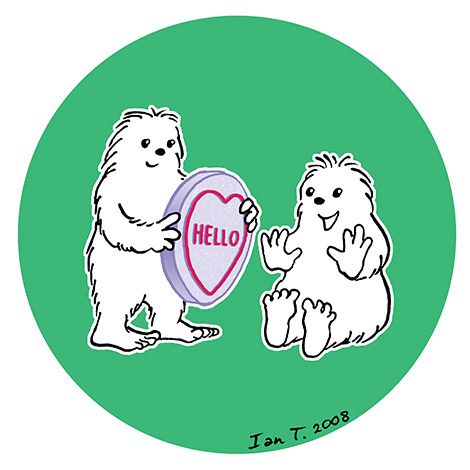 This picture - "Sweet" for
Illustration Friday
comes from a piece I had published in the book,
The Tango Collection
a few years ago.
If you'd like to preview the whole story (and maybe even buy the book), you might see it at Amazon - just click through to the first page of comics at:
The Tango Collection - Amazon preview
(sometimes the page appears "intentionally blank" though).
"Sweet talk like candy rots teeth"
Prefab Sprout - Hallelujah
Labels: Illustration Friday, Tango Collection
Wednesday, February 20, 2013
Out on the Meme Streets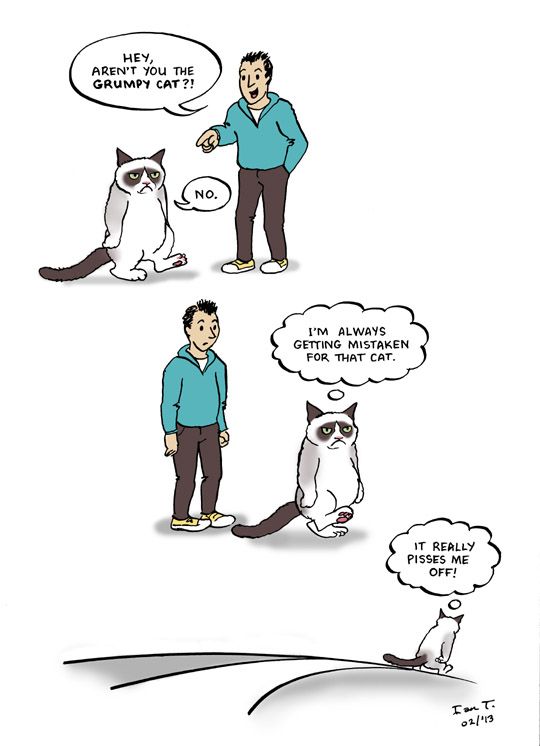 Labels: Cartoons, Miscellaneous comic pieces
Saturday, January 26, 2013
A new Australian flag
If Australia really needs a new flag, then I reckon just go with a map of Australia itself, maybe yellow against a blue background. Not many countries could actually use their geography this way, and it would be as distinctive as Canada's iconic maple-leaf flag.